The Borkensztajn (Stein) Family
As told to Karen Lefkowitz by her father Charles Stein
In 1902, Eli Meilach Borkensztajn (Max Stein) married Blima (Bella) Rivka Zyser in Stopnica, Poland. They had five children, Chaya Sura (Sarah), Israel Icek (Irving), Kiva (Charles), Pinchas (Phillip), and Chana (Anne). In 1913, Max made the difficult decision to leave his wife and children and emigrate to New York City. Their plan was for Max to go to New York and earn enough money as a tailor to bring over Bella and the children. In 1914, WWI broke out and there was no hope of bringing over the family during wartime.
Bella was determined to support her children and make sure no one would go hungry. Bella was born in a tiny town (a dorf) near Stopnica called Piastrow (possibly Piestrzec), which I believe no longer exists. Her father was a feldshuh (barber-surgeon). His favorite remedy was bancus (hot cups). He earned the respect of the local farmers and townspeople and Bella maintained a good relationship with them. In order to earn money, she would travel to the farms, by foot, and buy produce and chickens to sell at the Stopnica Marketplace. In the summers, the family would live and work at one of the orchards in Piastrow. They lived in a hut called a "butke." It was similar to an igloo but made of straw and wood. After the summer, they returned to Stopnica with enough produce to last the winter. It was stored in the attic under layers of hay.
Their home in Stopnica was on a side street off the main street which was cobblestone. The house was in a courtyard. The courtyard was marked off by a wooden fence. It surrounded four one room wooden homes. At the rear of the courtyard were fruit trees. The house was divided into three sections by curtains – the eating and cooking area, the children's bedroom, and the parent's bedroom. The "bathroom" was a hole in the ground in the rear of the courtyard. There was no running water and water was carried in buckets from the river. Laundry was done in the river.
My father attended cheder and remembers the Rabbi coming to the house and asking if the kinderlach were home for lessons. He remembers being chased by the Rabbi with a broom for doing something naughty!
Stopnica was on the front during the war. It seemed like every week another army would pass through the town. When the soldiers were in town, most of the townspeople would hide in their homes. Bella was fearless when it came to protecting her children. She cooked chickens and geese and sold them to the soldiers to earn money to feed her children.
Max tried to send money but it was usually stolen by the postal workers. One day a photo of Max arrived. Hidden between the photo and cardboard backing was a twenty dollar bill! This was a joyous occasion!
Finally, the war ended and it was time for the family to join Max in New York City. In the fall of 1920, Bella and the children said their goodbyes to the relatives who stayed in Poland and made their way by foot through war-torn Poland to Gdansk where they boarded the ship bound for New York. The trip in steerage was difficult but they never forgot that wondrous first sight of the Statue of Liberty and being reunited with Max!
A year after being reunited, their beloved youngest son, Sidney, was born. The family was soon able to leave the Lower East side and move to Brownsville in Brooklyn. At first they rented an apartment, but by 1930 the family owned a two family house in Brownsville. All of the children lived with the family and combined their salaries to be able to afford this home during the Depression. Sidney, the youngest, was the only sibling able to attend college because his older brothers worked to help support the family. He went on to earn a PhD in Chemistry and during graduate school worked for the Manhattan Project which built the first atomic bomb. Sadly, tragedy struck the family when the oldest sister, Sarah, died of tuberculosis in 1931. She was married for one year and was pregnant.
The years spent living in an orchard left the family members with a great love of nature and living in the "country." The family purchased an old farmhouse in Accord, NY in the Catskill Mountains and later built bungalows which they rented to families from New York City so they too could enjoy summers in the country. The extended family joyfully spent their summers together in Accord.
Sadly, after WWII, the family learned that most of Bella's family who remained in Poland had perished in the Holocaust. There were only two survivors from a large family.
Max passed away in 1949 and Bella in 1971. They lived long enough to see their clan take root in America. They are survived by numerous grandchildren, great grandchildren and great-great grandchildren. They would have been so proud to see their wonderful descendants of generous, loving, smart, and successful people.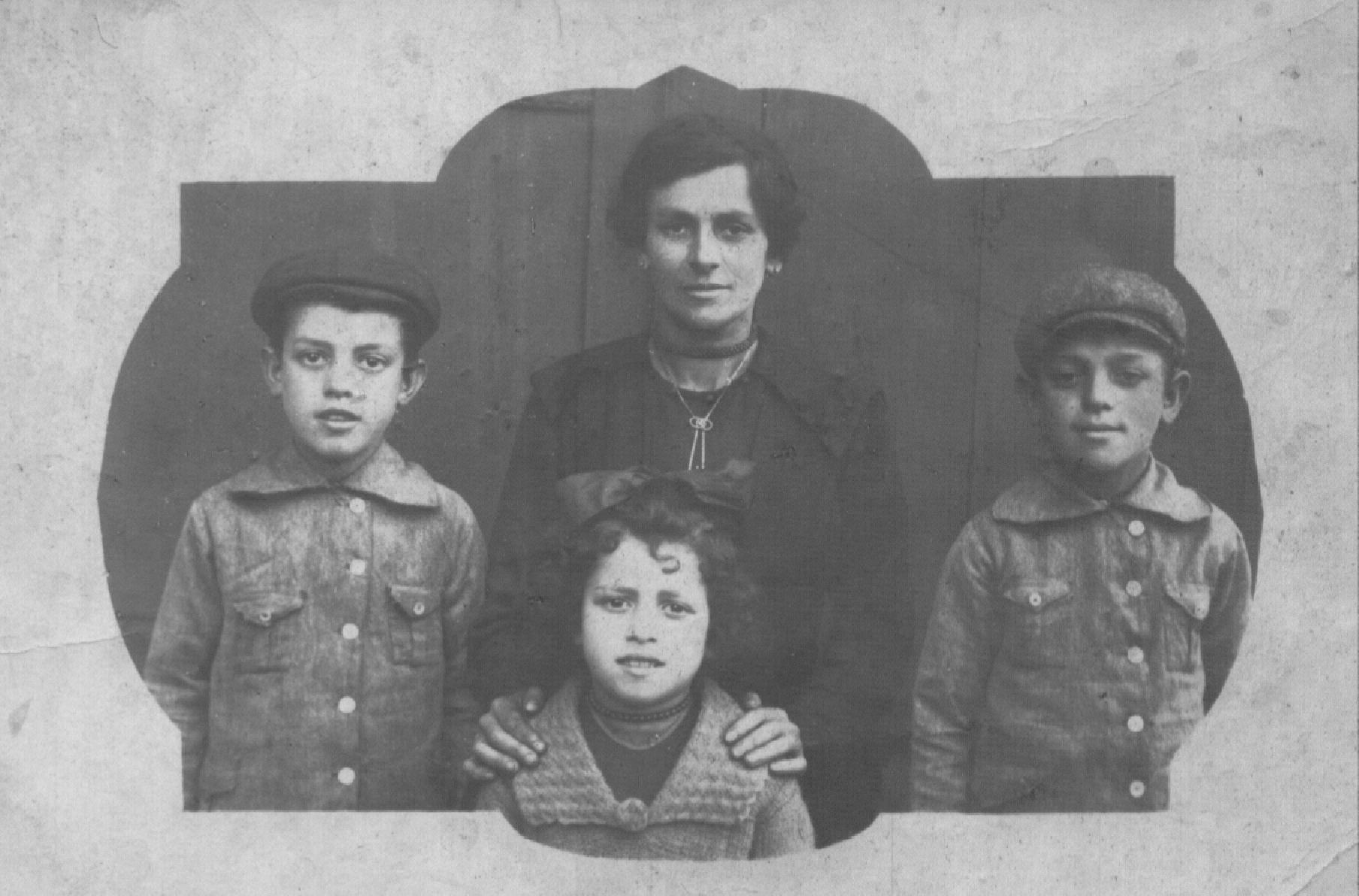 The Borkensztajn (Stein) Family
Henry Dyzenhaus
Henry Dyzenhaus
April 17, 1921 – April 3, 2011
My father Henry Dyzenhaus was an ordinary man with modest ambitions. In December of 1949 he sailed into New York Harbor aboard an American troop carrier, The Admiral Greeley. With him was his wife and his daughter, that would be me. By this time, he had spent three years in a displaced person's camp in Feldafing, Germany. He had been liberated from a concentration camp in Czechoslovakia called Theresienstadt which was the last stop in a nightmare that included Buchenwald. It's a choice to not to define him by the Holocaust.
When he disembarked in New York City on that cold winter morning, he was greeted by a welcoming committee of one. Max Bloch a D.P. Camp friend greeted him with a herring wrapped in newspaper. Max brought this gift to honor our arrival. Just goes to show that if we don't laugh, we are doomed to crying.
The stories of life in Stopnica, Poland would not have been believable except that we know they are true. Henry was an apprentice carpenter to a coffin maker. His parents owned an inn which had a bar and a restaurant. Stopnica at that time was a "shtetel" with a large Jewish population (no Jews are there now). He told the story of the volunteer fire fighters who rounded up horses from the meadow and hitched them to fire truck so by the time they got to the fire, it was too late.
With the modest ambition of an education, he moved to Sosnovice, Poland which was a city with a University. There he rented a room from the Poliwadas and began a romance with Fay, whom he later married. He loved to read especially Russian novels and his ambition was to save enough money and attend the University. When the Nazis were expanding into Europe, my father went back to Stopnica and took my mother with him.
Henry was the oldest of three boys, Max the middle brother and Steve the youngest. Max did not survive the Holocaust. At the end of his life, my father dreamed of Max often and talked about him as he did of his parents, especially his mother. Her name was Esther and she was known as "Esther the Clever." The family owned an inn with a restaurant and a bar. Esther was the one who ran the business. His father was a sales representative for Singer sewing machines. The last time my father saw is brother and his parents was 1941.
In America, my father found a job as a carpenter. As soon as he could, my father enrolled in night school to learn English, he received a completion certificate and he certainly learned English. He continued on at night to learn drafting. It wasn't long before he moved out of carpentry into management. He ran major projects designing and installing interiors of department stores. To say that he was a hard worker is an understatement. He would leave the house every day before dawn and he often traveled to jobs in other cities.
He was a generous person. One man who worked in his shop was arrested and called my father to bail him out which of course he did. He always looked for ways to promote workers into better positions. Many years after his retirement, we heard from people who had worked with him. His secretary continued to write to him until he passed away.
No one had a father who worked harder or spent more time with his family. He took me to ballet school on Sunday mornings; he rented a bicycle for me and taught me to ride in the school yard. When I was little, the girls next door got mad at me and wouldn't let me in to listen to the record player. With his first pay check, he bought me a record player and records. No one we knew went roller skating or ice skating, but we did. He took us to the rodeo and to the circus. We spent summers in a bungalow in upstate New York. There was one summer when he brought me a new Nancy Drew book every Friday. We went to Florida for Christmas vacation.
When we were moving them out of their house in Marlboro I found a legal pad with carefully documented contributions to made to charities and to anybody who asked him. In the early days there were $5 and $10 donations. In subsequent years, he gave more. When a friend's son was in trouble, he went with a blank check to offer help.
I never heard any warm or sentimental stories about Stopnica. The stories I heard, and there were very few, were about Jewish buys being chased after school and about the neighbors who were on the front lines to turn in Jews when the Germans came to Stopnica.
Esther Dyzehaus Blatt